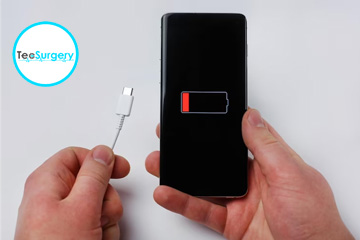 How to check If Your iPhone Battery Needs Replacement Based On Its Battery Health​
The battery is the most critical component of any device, whether it's a vehicle or a smartphone. The battery helps in the efficient device running. So, it's a natural fact that, unlike other components, it too degrades with time. Iphone's battery is no exception.
While degrading, it tends to charge more frequently, has the less charge-holding capacity, and even results in unexpected shutdown.
On an average about 500 charging cycles, your battery starts degrading, and battery health comes down to 70 to 80% percent. However, if you aren't playing games or surfing online, then this percentage can last up to one day!
But how does its battery capacity is judged? In 2018, Apple introduced a new iOS software update in their latest flagship phones, battery health. In this post, we shall discuss this topic and tell you when to replace your iPhone battery. So, hold back and keep the knowledge flowing!
Ø
How To Check The iPhone Battery Health?
For this, go to Settings > Battery > Battery Health.
If your iPhone has reached the 500 charging cycle, a message pops up on the battery health section "Your battery has significantly degraded".
Moreover, if the message displays "unable to verify this iPhone has a genuine Apple battery", it is an indication that your battery needs replacement. Also, you can find a lot more information in the battery health section, such as maximum capacity, peak performance capability, and optimized battery charging. Besides the above path, you can even follow this alternative link:
Apple Support > Repairs & Physical Damage > Battery Service > Check Now.
Ø
What Does The Graph On The Battery Health Indicate?
After you follow the above path to reach the battery health section, you will see certain graphs displayed. These graphs indicate the following:
• Battery Usage graph in the Last 10 Days
• Battery Level graph in the Last 24 Hours
• Screen On and Screen Off
• Battery usage by App
• Activity graph
• Activity by App
• Last Charged to XX%
Ø
When Is The Time To Replace Your iPhone Battery?
• Your iPhone is over a couple of years old.
• The battery health reads 70 to 80%.
• Unexpected frequent shutdowns.
• Charging more often than normal.
• Your iPhone works while plugging in only.
Ø
How To Get The iPhone Battery Replacement Done?

For this, you can either visit the Apple service center or the reputed mobile repair shops like Tecsurgery. However, if you want to get the replacement done via the service centre, ensure your iPhone has exhausted its warranty period. If not, then you don't need to pay anything for its replacement in the Apple service centre. But the downside here is it's time-consuming.
The next option could be the mobile repair shop near me (the third-party vendor). The best thing about them is they are cost and time-efficient. Moreover, providing the most genuine services to your expectations.
But be sure to go through their Google reviews and experiences before proceeding further. Among these repair shops, you can avail of services from Tecsurgery. A reputed mobile, laptop, and tablet repair shop that can fix your device within the promised time.
Wrapping Up.....
To summarize in brief, iPhones are versatile devices. Therefore, it's really frustrating when it drains too frequently and no longer holds the charge.
Battery replacement is worth based on the 70 to 80% battery health reading. They are cheaper than replacing your iPhone with a new one. So, bring your valuable Apple device to us, and we guarantee to provide a genuine and quality-oriented battery at comparatively lesser prices than the Apple Service Centres. That's a promise!
​