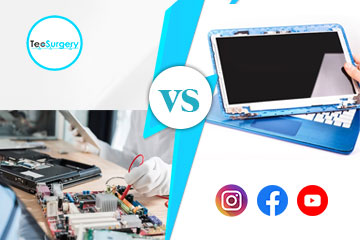 iPad Repair Vs.iPad Replacement: Which One To Go For​
Since last decade, Apple has sold over 360 million iPads owing to its hassle-free replacement facilities in the store. And this option comes with a steep price. Buying a new iPad cost over 749 Pounds Sterling.
Reason iPad repair evolved as the preferred option in the last few years. In many situations owing to minor issues, repairing poses better satisfactory results to its user.
Yet the debate is always on: repair or replace your iPad! Replacing has numerous benefits to offer, like assured results, quality, and less time needed, while repairing prevents losing your pockets with extra pounds.
So, what exactly are the better options among these in a digital era, where you have plenty of gadget options in the market and repairing services as well. Let's find out (by the top ipad repair services)
Check out the price of your iPad price in the market. If it's one-half to two-thirds of the iPads actual price, the general rule says, 'better to replace it!
Although while replacing it, you might be at risk of losing the crucial data in its storage. But if you think there isn't too much data and the repair falls between the above two ranges, the most preferred option is to get it replaced! Moreover, as mentioned earlier, you also don't need to spend too much time as well.
But the solution isn't that simple! Repairing carries its own set of benefits, as stated below:
Higher investment
Practical option in case of low budget
You will get good exposure to its technicalities, and further if the problem persists, you can repair it yourself
Offer the sentimental touch to your existing device
Check your iPad WarrantyBefore Getting The iPad Repair From The Third-Party Like The Phone Repair Shop
Before you take your iPad to the third-party repair shop, make sure it isn't under the AppleCare+ warranty. If that's the case, take advantage of it. Bring it to the Apple Service Centre, and they will repair it at zero cost, except for any major issue that isn't covered under the scheme.
To check this warranty, visit its Apple Warranty Status Page online. Enter your model number and certain other details. You are good to go!
The Most Efficient Professionals Ever- Tecsurgery, For Your iPad Repairs
Tecsurgery- a reputed iPhone and iPad repair shop has established itself as the leader in the UK gadget repair businesses, whether it's the iPhone, smartphone, or iPad.
We understand the value of the iPad for you and how challenging is it to cope with its faultiness. With our team of experts, our brand works hard all day to ensure the quick fixing of your beloved device.
At the end, don't settle for less.
For further assistance, contact us today!
​